An Informational Brief on Polymer Machining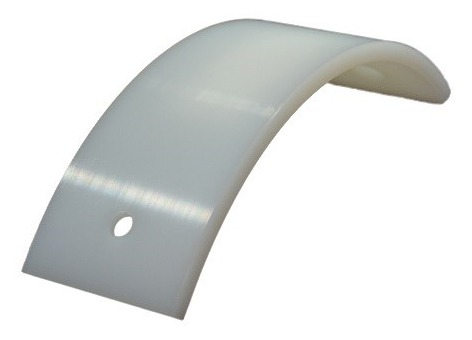 Among the many polymer materials we machine at AIP, High Density Polyethylene (HDPE) is a common material choice for commercial polymer applications.  HDPE is part of the Polyethylene (PE) family of thermoplastic polymers with variable crystalline structure.
First developed in the 1950s by German and Italian scientists Karl Ziegler and Giulio Natta, PE has become one of the most widely produced plastics in the world.  Polyethylene comes in several compounds each with various applications: Low Density Polyethylene (LDPE), High Density Polyethylene (HDPE) and Ultrahigh Molecular Weight Polyethylene (UHMW) are some of the most well-known.
For example, you will find LDPE most likely in the grocery store as plastic wrap or grocery bags.  In contrast, HDPE, due to its high density, is much better suited for construction components like a drain pipe.  And UHMW can be machined into high performance applications for medical devices, bulletproof vests and industrial wear components.
In this machining guide, we will discuss what goes into machining HDPE and how its considerations differ from other manufacturing options such as metal machining, injection molding, and 3D printing.
A Brief History of Plastic CNC Machining
How does AIP approach HDPE and its machining process? To start, let's explore what plastic machining is, specifically CNC machining.
CNC (Computer Numerical Control) machining is a process in the manufacturing sector that involves the use of computers to control machine tools. In the case of plastic machining, this involves the precise removal of layers from a plastic sheet, rod, tube or near net molded blank.
Shortly after World War II, the earliest version of CNC technology was developed as a dependable, repeatable way to manufacture more accurate and complex parts for the aircraft industry.  John Parsons is credited with developing numerical control – a method of producing integrally stiffened aircraft skins.
While working at the family-owned, Michigan-based business – Parsons Corp., John collaborated on the development of a system for producing helicopter rotor blade templates.  Using an IBM 602A multiplier to calculate airfoil coordinates, and inputting this data to a Swiss jig borer, it was possible to produce templates from data on punched cards.
In 1949 Parson's templates were applied to Air Force research projects at MIT.  Following extensive research and development, an experimental milling machine was constructed at MIT's Servomechanisms Laboratory.
Machining polymers and composites is a precise science that requires strong technical expertise.  For instance, some plastics are brittle, while others melt at a specific temperature.  These diverse mechanical and thermal properties result in varying behaviors when CNC machined.  Thus, it is imperative to understand the polymer structure and qualities of HDPE if you're machining it.
Ever wonder about the differences in cost and process among 3D Printing, Injection Molding or Plastic Machining?
Properties of HDPE
HDPE is a high impact, high density crystalline thermoplastic.  It also has a low moisture absorption rate and good chemical and corrosion resistance.  Compared to its sister polymer LDPE, HDPE offers much greater impact resistance and tensile strength.  This polymer has a melt temperature of 266 F (130 C).  Its tensile strength is 20 MPa (2,900 PSI); to put this number into perspective, a slab of concrete may be able to withstand 3,000 PSI.
Oftentimes, people use HDPE in everyday home appliances and commercial containers.  Due to its strength and corrosion resistance, it's a common candidate for garbage bins, laundry detergent cartons and cutting boards.  It is also safe to use for food contact such as milk cartons.
PE is available in sheet stock, rods, and even specialty shapes in a multitude of variants (LDPE, HDPE etc.), making it a good candidate for subtractive machining processes on a mill or lathe. However, colors are usually limited to white and black.
Machining HDPE
Annealing HDPE
Annealing greatly reduces the chance that surface cracks and deformation due to internal stresses will occur from the heat generated during machining HDPE. AIP uses computer controlled annealing ovens for the highest quality precision machining of all thermoplastics.  Talk to our engineers about any questions you have about the annealing of a specific polymer.
Machining HDPE
As a crystalline thermoplastic, HDPE can be machined at tight tolerances; remember dimensional stability and strength!  AIP recommends non-aromatic, water-soluble coolants because they are most suitable for ideal surface finishes and close tolerances. Keep in mind however that HDPE has a very low CTLE and therefore will move quite a bit with slight temperature changes.  Some examples are pressurized air and spray mists. Coolants have the additional benefit of extending tool life as well.
Some companies machine both metals and plastics, which has detrimental outcomes for clients. Many past experiences have shown parts going to customer without cracks, only to develop cracks over time due to exposure to metal machine shop fluids. Be sure to use a facility like AIP that only machines polymers.
Preventing Contamination
Contamination is a serious concern when machining polymer components for technically demanding industries such as aerospace sciences. To ensure the highest level of sanitation down to the sub-molecular level, AIP Precision Machining designs, heat-treats, and machines only plastics with any sub-manufactured metalwork processed outside our facility.  This allows us to de-risk the process from metallic cross contamination.
HDPE (High Density Polyethylene) Machining Guide: Supportive Information
Learn more about HDPE and its applications in other industries