When the Heat Is on, These High-Temperature Plastics Perform Under Pressure
Vespel®, Torlon® and, polyimide-based plastics are all part of a class of materials known as high-performance plastics. These plastics are characterized by their excellent mechanical and thermal properties, as well as their resistance to chemical attack.
Vespel® is a registered trademark of DuPont, and their material is often used in applications where extremely high temperatures are involved. Torlon® is a registered trademark of Solvay Advanced Polymers; it's often used in electrical applications due to its excellent dielectric properties.
While these polymers each perform well under pressure and high temperatures, they have slight differences that set them apart. It's important to know these distinctions when planning out the material selection for a performance plastic. In this informational brief, we're covering all the nuances between Vespel® and Torlon® down to the molecular level.
Features and Capabilities
Both Vespel® (PI) and Torlon® (PAI) are considered high-performance thermoplastics and share similar capabilities. However, there are slight differences in chemical makeup at a molecular level.
For instance, Polyimides are performance polymers containing imide group (-CO-N-OC-) in their repeating units. The polymer chains are either an open chain or closed chain. On the other hand, Polyamides all consist of amide (-CONH-) linkages in their polymer backbone. The amide group is classified as a polar group, which allows polyamides to build hydrogen bonds between chains. By doing this, they improve the interchain attraction.
These slight differences in the chemical makeup enhance various properties of Polyamide-imide over Polyimide and vice versa. The following chart displays the strengths and weaknesses of these two materials.
Strengths
Weaknesses

Vespel® (PI)

·         Thermal stability

·         Excellent chemical resistance

·         Dielectric strength

·         Mechanical toughness

·         Superior temperature adaptability

·         Excellent tensile and compressive strength

·         Transparency in many microwave applications

·         Radiation resistance

·         Superior bearing and wear properties

·         High manufacturing cost

·         High-temperature requirement in the processing stage

·         Specified operating processes such as annealing operations at specified temperatures

·         Sensitive to alkali and acid attacks

Torlon® (PAI)

·         Excellent Chemical Resistance

·         Excellent Stress Resistance

·         Excellent Thermal Resistance

·         Excellent Wear Resistance

·         High Stiffness

·         High Strength

·         Higher moisture absorption rate than other performance plastics

·         High manufacturing cost

·         Narrow processing window when temperatures exceed 600°F

·         Melt viscosity that is highly sensitive to temperature and shear rate

·         Thermal cure for 20 or more days at 500 F to optimize properties after melt processing
Applications of Vespel® and Torlon®
Vespel® and Torlon® both maintain stability and functionality under high temperatures and pressures. For this reason, they are often found in applications with harsh, demanding environments, including:
energy
automotive
aerospace
and military & defense
Does one material perform better than another in certain cases? Let's take a look.
Vespel®: An all-around performer
Polyimides like Vespel® are often used in electrical insulation, aerospace components, and high-temperature bearings. Unlike most plastics, Vespel® Resin does not produce significant outgassing (even at high temperatures). This makes it useful for lightweight heat shields and crucible support. It also performs well in vacuum applications and extremely low cryogenic temperatures. Although there are polymers that surpass individual properties of this polyimide, the combination of these factors is Vespel's® primary advantage.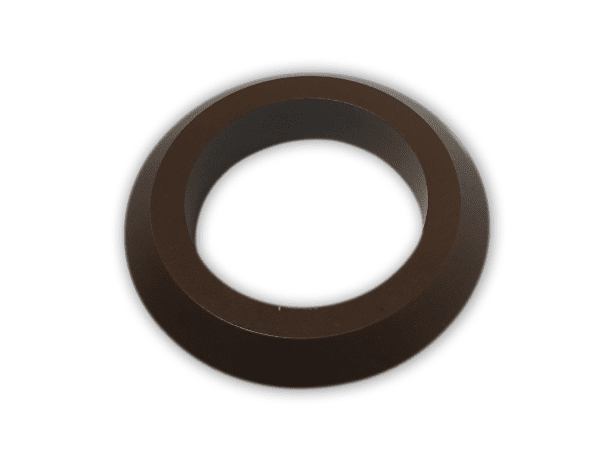 Torlon®: Bring on the heat
On the other hand, Torlon® is a polyamide-imide with even better mechanical and thermal properties than Vespel®. It is often used in pump housings, valves, and chemical-resistant seals. PAI comes in several grades, including TORLON® 4203 (electrical and high strength), TORLON® 4301 (general purpose wear), TORLON® 4XG (glass-reinforced), and TORLON® 4XCF (carbon-reinforced).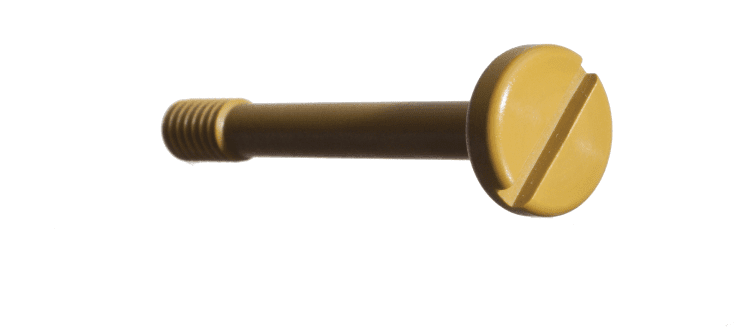 Takeaway: Both Vespel® and Torlon® are widely used in industries that require reliable performance under extreme conditions. It's important to consider the environment, especially for Torlon®, as it has a higher moisture absorption than other performance plastics.
Vespel® polyimide
Torlon® polyamide-imide
·         Aerospace Applications

·         Semiconductor Technology

·         Transportation Technology

·         Bearing Cages

·         High-Temperature Electrical Connectors

·         Structural Parts

·         Valve Seats

·         Wear Rings
CNC Machining Vespel® vs Torlon®
Let's talk about processing and machining. While Vespel® and Torlon® can be injection molded, extruded, or CNC machined, we're going to focus on the protocols for subtractive CNC machining.
Annealing
As with any performance plastic, annealing preps the material and ensures that it will not crack or craze in the future. AIP Precision Machining has programmed annealing ovens for plastics that heat the material above its recrystallization temperature. By maintaining the heat at that specific point, the structure of the material changes to become finer and more uniform. This process relieves internal stresses in the material. Both Vespel® and Torlon® require specific temperatures and cool-down time after annealing. This is why AIP uses computer-controlled annealing ovens for the best outcome.
Machining
Vespel®
Vespel® can be machined using conventional CNC methods. However, there are a few things to keep in mind in order to achieve the best results.
First, Vespel® has a relatively low coefficient of thermal expansion (CLTE), meaning it will expand and contract differently than most metals. This can cause tooling and fixtures to loosen over time, so it's important to check them regularly.
Second, Vespel® is a very hard material that can wear down tools quickly. Use sharp cutting tools made of carbide and take light cuts in order to avoid premature tool wear.
→ [READ NOW] Machining Vespel: A Plastics Guide
Torlon®  
Torlon® is one of the most difficult materials to machine due to its extremely high hardness and wear resistance. In order to machine Torlon® or any polyamide-imide, it is necessary to use a CNC machining center with special tooling and cutting parameters. The cutting tools must be made of extremely hard materials such as carbide or diamond, and the cutting parameters must be carefully optimized to prevent tool wear. With the proper tools and techniques, Torlon® can be machined into parts with very tight tolerances and smooth finishes.
→ [READ NOW] Machining Torlon: A Plastics Guide
Torlon® or Vespel®? Ask the experts at AIP
Are you looking for a performance material that works continuously under pressure and heat? Not sure if Torlon® or Vespel® is the right material for your project? Our team of engineers and machinists are skilled craftsmen in reviewing your project parameters and design needs. We will ensure that every facet of your project is taken into consideration and work with you to define the best material for your project needs and budget.
We pride ourselves on our industry knowledge and partnerships with leading suppliers of top materials: Vespel® SP, Vespel® SCP products, and a variety of Torlon® grades. Contact an AIP engineer today, and we will be happy to help with your unique project.