Learn about AIP's precision machining capabilities for mission-critical components.
High-performance precision plastics require high-performance precision CNC machining.  CNC machines, or computer numerically controlled machines, are electro-mechanical devices that use tools at varying axes (usually 3-5) to produce a physical part from a computer design file.
Our modern society runs on CNC machined plastic components – from everyday household piping to critical spinal implants.  The breadth of materials, shapes and industries served is endless.
At AIP, we precision machine parts for industries such as the aerospace & defense, medical & life sciences and power & energy.  Each part that is CNC machined comes with design specifications and dimensional tolerances.  Our machinists are capable of crafting parts at .002 mm tolerance, which can make a whole lot of a difference in the performance of a mission-critical part.
Let's back up a moment though.  What are dimensional tolerances? And how do you know if your project should demand a tighter tolerance?  Read on in this month's blog to find out.
Let's Talk About Tolerance
What are machining tolerances?
In CNC machining terms, tolerance, or dimensional accuracy, is the amount of deviation in a specific dimension of a part caused by the manufacturing process.  No machine can perfectly match specified dimensions.  The designer provides these specifications to the machinists based on the form, fit and function of a part.
How are tolerances measured?   
CNC machines are precise and measured in thousandths of an inch, referred to as "thou" among machinists.  Any system is usually expressed as "+/-"; this means that a CNC machine with a tolerance of +/- .02 mm can either deviate an extra .02 mm from the standard value or less .02 mm by the standard value.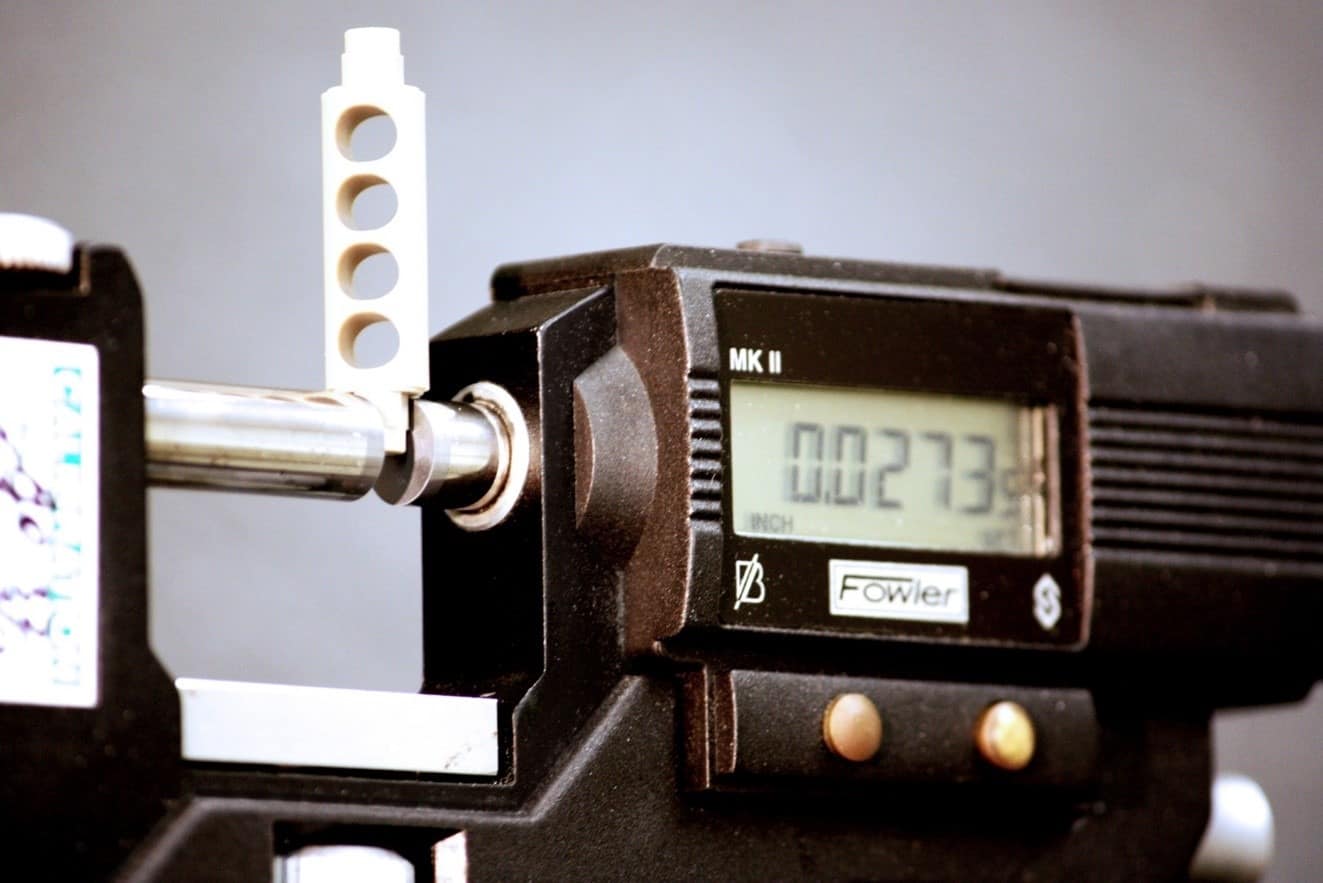 Why are tolerances critical?
Tolerances keep the integrity and functionality of the machined part.  If the component is manufactured outside of the defined dimensions, it is unusable, since the crucial features are not fulfilling the intent of the design.
How close can a tolerance get?
Tolerance depends on the material that you use and the desired purpose of the design.  In plastics machining, the tolerances can be from +/- 0.10 mm to +/- 0.002 mm.  Tighter tolerances should only be used when it is necessary to meet the design criteria for the part.
When .002 mm Matters
What is the .002 mm difference?  In many industries, such as the medical industry, it is crucial to machine parts with extreme precision so that they can interact with human tissue or other medical devices.  In fact, when it comes to manufacturing medical applications, subtractive manufacturing (CNC machining) provides tighter tolerances than additive manufacturing (3-D printing).


(AIP PEEK Eye Implant)
Tight tolerances like the .002 mm are important because plastics are machined to interact with other parts.  In particular, CNC milled or turned plastics are unique designs for limited quantities, such as custom-made brackets and fasteners, or components for prototyping purposes.
One of the most critical considerations when applying tolerances is to take into account fits. This refers to how shafts will fit into bushings or bearings, motors into pilot holes, and so on. Depending on the application, the part may require a clearance fit to allow for thermal expansion, a sliding fit for better positioning, or an interference fit for holding capability.
As with anything that is precision machined, tighter tolerances demand time and skill.  Make sure to work with a certified company like AIP that has the infrastructure and expertise to complete your project with unmatched precision and unrivaled experience.
Let our team go to work for you
With 36+ years of experience in the industry, our dedicated craftsmen and ties to leading plastic manufacturers allow us to provide you with unrivaled knowledge and consulting in material selection, sizing, manufacturing techniques and beyond to best meet your project needs.
AIP offers a unique combination of CNC machining, raw material distribution, and consultancy as a reliable source for engineering information for materials such as PEEK, TORLON, ULTEM and more.
We are AS 9100D compliant; certified and registered with ISO 13485 and ISO 9001 and standards in our commitment to machining quality custom plastic components for specialized industrial sectors. Quality assurance is included as an integral part of our process and is addressed at every step of your project, from concept to completion.
READY FOR A CONSULTATION?
Tell us about your power & energy needs and we'll get the job done quickly and efficiently at a competitive price.


or request a quote here.