When design engineers need a custom-machined component for a project, many consider metals first for their strength and durability.  However, this is not the case anymore; metals are moving over as polymers and composites become a more sensible alternative for precision-machined, high-strength durable parts.  This is true across many industries, but especially in the aerospace and defense sectors.  In this article, we will explore the benefits of opting for a plastic material for mission-critical aerospace and defense parts.
Overall Benefits
Machined polymer and composite components are the most cost-effective solution compared to metal.
First, machined plastic parts are lighter and, therefore, provide immense advantages over metals by offering lower lifetime freight costs for equipment that is regularly transported or handled over the product's lifetime. Furthermore, polymers allow lower power motors for moving parts due to lower frictional properties of polymer wear components compared to metals. The low frictional properties preserve the integrity of the part as well, which translates to less maintenance-related downtime. What does this mean for operators?  Equipment remains online longer doing what it's supposed to do – produce profit and functionality.  Not only are plastics lighter, but they're also less expensive than many raw metal materials used for parts. Plastics can be produced in faster cycles than metals, which helps keep manufacturing costs down as well.
At AIP, we can machine and deliver parts in as little as 10 business days.
Plastics are more resistant to chemicals than their metal counterparts.
Without extensive and costly secondary finishes and coatings, metals are easily attacked by many common chemicals. Corrosion due to moisture or even dissimilar metals in close contact is also a major concern with metal components. Polymer and composite materials such as PEEK, Kynar, Teflon, and Polyethylene are impervious to some of the harshest chemicals. This allows for the manufacture and use of precision fluid handling components in the chemical and processing industries.  These parts would otherwise dissolve if they were manufactured from metal materials. Some polymer materials available for machining can withstand temperatures over 700°F (370°C).
Plastic parts do not require post-treatment finishing efforts, unlike metal.
Polymer and composites are both thermally and electrically insulating. Metallic components require special secondary processing and coating in order to achieve any sort of insulating properties. These secondary processes add cost to metallic components without offering the level of insulation offered by polymer materials. Plastic and composite components are also naturally corrosion resistant and experience no galvanic effects in a dissimilar metal scenario that require sheathing. Additionally, plastic materials are compounded with color before machining, eliminating the need for post-treatment finishing efforts such as painting.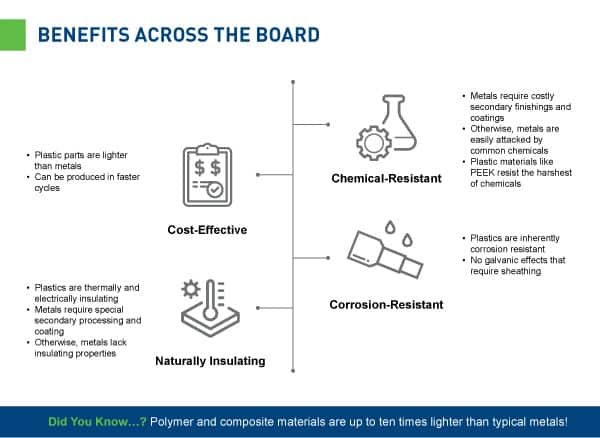 Benefits to the Aerospace & Defense Sector
Polymers bring many advantages to the aerospace and defense industry, particularly in the form of weight-saving capabilities.  Let's take a closer look at the benefits of precision machined mission-critical components.
Lightweight: Polymer and composite materials are up to ten times lighter than typical metals. A reduction in the weight of parts can have a huge impact on an aerospace company's bottom line. For every pound of weight reduced on a plane, the airline can realize up to $15k per year in fuel cost reduction.
Corrosion-Resistant: Plastic materials handle far better than metals in chemically harsh environments. This increases the lifespan of the aircraft and avoids costly repairs brought about by corroding metal components an in-turn reducing MRO downtime provides for more operational time per aircraft per year.
Insulating and Radar Absorbent: Polymers are naturally radar-absorbent as well as thermally and electrically insulating.
Flame & Smoke Resistances: High-performance thermoplastics meet the stringent flame and smoke resistances required for aerospace applications.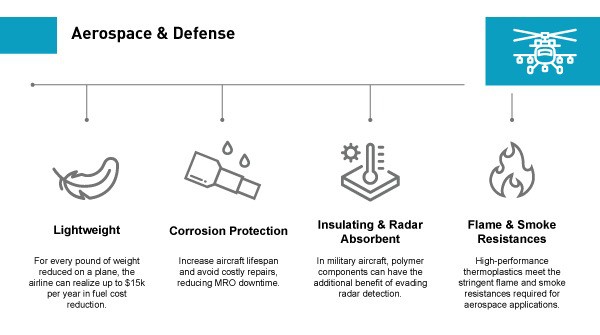 Other Benefits for Aerospace and Defense
High Tensile Strength: Several lightweight thermoplastics can match the strength of metals, making them perfect for airplane equipment metal part replacement.
Flexibility & Impact Resistance: Polymers are resistant to impact damage, making them less prone to denting or cracking the way that metals do.
Plastics have a variety of unique attributes which place them above metals in terms of utility, cost-effectiveness and flexibility for precision-machined mission-critical components.  To learn more, search specific plastic materials and their applications per industry with our useful material search function.
Download Our Plastics Over Metals Infographic
Take Our Material Expertise with You.