An Informational Brief on Polymer Machining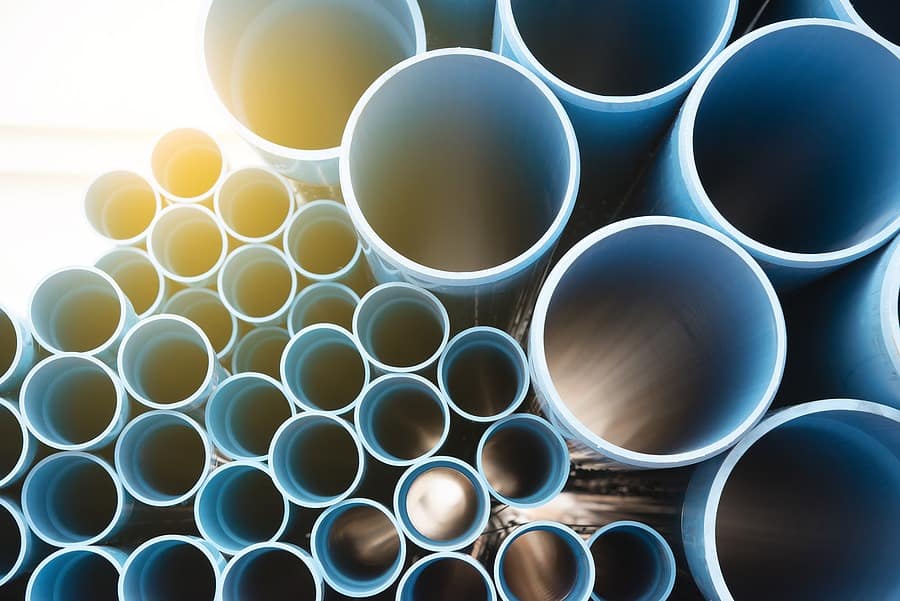 PVC, or polyvinyl chloride, is a rigid material that exhibits high corrosion resistance, high chemical resistance, low moisture absorption and excellent dielectric strength.  These qualities make it a choice material for a wide range of industries, including:  medical devices, industrial/construction components and everyday household items.  It is the world's third largest thermoplastic material by volume only after polyethylene and polypropylene.
AIP has over 37 years of experience machining complex components from thermoplastics like PVC.  In this insightful technical brief, we will discuss what goes into machining PVC and how it differs from other manufacturing options such as metal machining, injection molding, and 3D printing.
Properties of PVC
All machine shops should keep data on the properties of the thermoplastics and materials they use.  The data helps in selecting the right material for a project and a material's suitability for the end-use product.  Below are some of the key characteristics of PVC:
Key Properties
Good insultation
Dielectric strength
Durable
Flame Retardant
Low maintenance and long life span
Abrasion resistant
Light-weight
Chemical resistance
Description
Polyvinyl Chloride (PVC or vinyl) is a highly durable thermoplastic material.  It is versatile and economical for applications in medical, construction, industrial and consumer end use markets.
PVC has excellent dielectric strength which makes it a good insultation material.  It is also resistant to weathering, chemical rotting, corrosion, shock and abrasion – therefore, a preferred material choice for long-life and outdoor products.  PVC is resistant to all inorganic chemicals. It has very good resistance against diluted acids, diluted alkalis and aliphatic hydrocarbons. Attacked by ketones; some grades swollen or attacked by chlorinated and aromatic hydrocarbons, esters, some aromatic ethers and amines, and nitro- compounds.
It is available in two forms – rigid and flexible – but it is often mixed with additives to enhance properties and improve machineability.
The table below displays an overview of the material properties, units and values for machining PVC Gray Type 1:
Material Property
Units
Value
Tensile Elongation at Break @73 F
%
–
Flexural Modulus of Elasticity @ 73 F
psi
455000
Tensile Modulus of Elasticity @ 73 F
psi
392000
Flexural Strength @ 73 F
psi
–
Specific Gravity @73 F
ASTM D792
1.43
Tensile Strength @73 F, (ult)/(yld)
psi
7300 (yld)
Notched Izod Impact @73 F
ft-lb/in of notch
0.7
Heat Deflection Temperature @ 264 psi
F
169
Flammability Rating
UL94
–
Coefficient of Linear Thermal Expansion @73 F
in/in/F
E-831(TMA)
Dielectric Strength, Short Term
Volts/mil
–
Water Absorption, Immersion, 24
Water Absorption, Saturation
% by weight
% by weight
–
–
Applications of PVC
PVC comes in two general forms – rigid and flexible.  However, it can be combined with several different materials to enhance its qualities for use in a range of applications from medical devices to industrial construction components.  Here is a list of the most common applications:
Common Applications
| | | |
| --- | --- | --- |
| Application | Rigid PVC | Flexible PVC |
| Construction | Window Frames, Pipes, House Siding, Ports, Roofing | Waterproof Membranes, Cable Insultations, Roof Lining, Greenhouses |
| Domestic | Curtain Rails, Drawer Sides, aminates, Audio and Videotape Cases, Records | Flooring, Wall Coverings, Shower Curtains, Leather Cloth, Hosepipes |
| Packaging | Bottles, Blister Packs, Transparent Packs and Punnets | Cling Film |
| Transport | Car Seat Backs | Under Seal, Roof Linings, Leather Cloth Upholstery, Wiring Insultation, Window Seals, Decorative Trim |
| Medical | – | Oxygen Tents, Bags and Tubing For Blood Transfusions, Drips and Dialysis Liquids |
| Clothing | Safety Equipment | Waterproofs for Fishermen and Emergency Services, Life-Jackets, Shoes, Aprons and Baby Pants |
| Electrical | Insultation pipes, jacketing, electricity distribution boxes, switches, transparent distributor box housings, plug housings and battery terminals | Cable and wire insultation, plugs, cable jackets, sockets, sable heads and distributors |
| Other | Credit Cards, Traffic Signage | Conveyor Belts, Inflatables, sports goods, toys, garden hoses |
AIP Machining Capabilities: Unrivaled Expertise
Our close ties with the industry's leading plastics manufacturers give us even further insight and access to technical help in material selection, sizing and manufacturing procedures.  If you are looking for a trademarked material for your project, we have a host of material bases available for expert machining.  Whatever your application, our machinists can help you in material selection, sizing and manufacturing techniques from concept to completion.
Machining PVC
Annealing PVC
Annealing and stress-relieving prevents cracking and crazing in a precision machined component with lubricants, cooling agents and trained procedures.  We recommend slow heating and cooling during the annealing process of thermoplastics.  This reduces the chances of these stresses occurring from the heat generating during machining polymers like PVC.  Our AIP machinists use computer controlled annealing ovens for the highest quality precision temperatures and time control.  If you have a specific question about the annealing process for PVC or other thermoplastics, our machinists at AIP can provide an in-depth consultation.
Machining PVC
PVC can be injection molded, extruded or thermoformed.  At AIP, we CNC machine compounded PVC.  For the best results, use sharp tools, avoid excessive clamping and cutting forces and use coolants to prevent overheating.  We recommend non-aromatic, water-soluble coolants because they are most suitable for ideal surface finishes and close tolerances. These include pressurized air and spray mists. Coolants also preserve and extend the life of tools.  These guidelines are general and are not a substitute for a conversation with your machinist.  For further information, speak to a CNC machinist at AIP to get specific machining information on PVC and other performance thermoplastics.
Some companies machine both metals and plastics, which has detrimental outcomes for machined polymer products.  Past experiences have shown parts going to customer without cracks, only to develop surface cracks and warping over time due to exposure to metal machine shop fluids. Be sure to use a facility like AIP that only machines polymers.
Preventing Contamination
Contamination is a serious concern when machining polymer components for technically demanding industries such as aerospace and medical sciences. To ensure the highest level of sanitation down to the sub-molecular level, AIP Precision Machining designs, heat-treats, and machines only plastics with any sub-manufactured metalwork processed outside our facility.  This allows us to de-risk the process from metallic cross contamination.
PVC Machining Guide: Supportive Information
Quality Assurance Certifications
Miscellaneous Materials
Looking for more plastics machining guides on polymers with chemical resistance?
Read Our PCTFE Machining Guide