An Informational Brief on Polymer Machining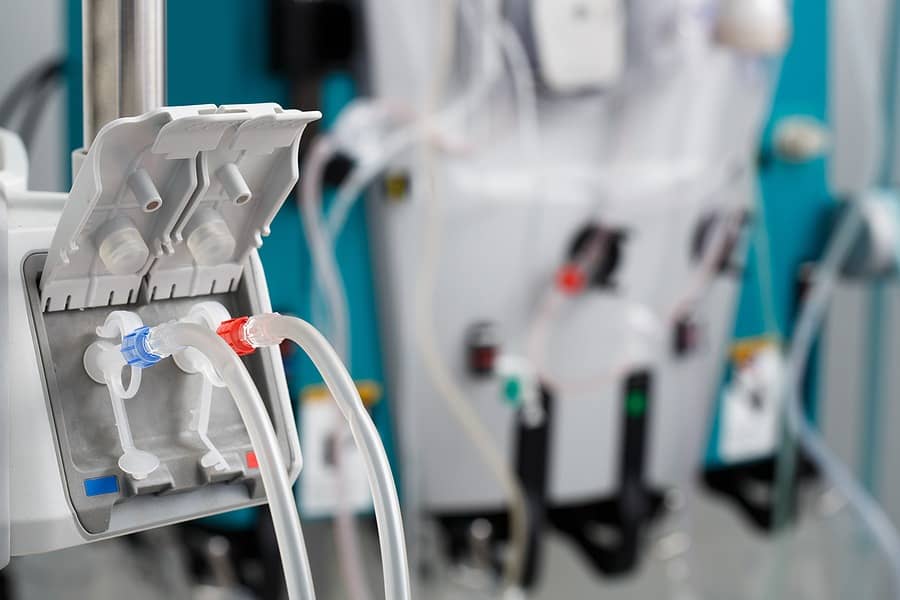 Polychlorotrifluoroethylene (PCTFE) is a thermoplastic chlorofluoropolymer; some of its fluoropolymer cousins include: FEP, Kynar® PVDF, Teflon® PTFE and Halar® ECTFE. Fluoropolymers are known for their excellent chemical and hydro-resistance. This makes them candidates for critical applications, such as medical devices and industrial piping, where fluid exposure and hazardous materials can wear on a machined plastic part.
AIP has over 37 years of experience machining complex components from thermoplastics like Polychlorotrifluoroethylene PCTFE. In this insightful technical brief, we will discuss what goes into machining PCTFE and how it differs from other manufacturing options such as metal machining, injection molding, and 3D printing.
Properties of PCTFE
It is helpful to keep information on the properties of a thermoplastic before machining. This helps in selecting the right material for your project. Also, it helps determine if the material is a candidate for the end-use requirement. Below are some of the key characteristics of PCTFE:
Key Properties
High Chemical Resistance
Extremely Low Moisture Absorption
High Compressive Strength
Low Deformation
Low Gas Permeability
Nonflammable
PCTFE offers high compressive strength, low deformation, low gas permeability and extremely low moisture absorption. Nonflammable and resistant to most corrosive chemicals, PCTFE additionally has a much lower cold flow characteristic than other fluoropolymers.
Able to maintain excellent chemical resistance and ultraviolet stability in a temperature range from -400°F (-230°C) to 393°F (201°C), PCTFE has many applications in food processing, industrial and aerospace applications.
The table below displays the material properties for KEL-F®, a trade name for PCTFE.
Material Property
Units
Value
Tensile Elongation at Break @73 F
%
140
Flexural Modulus of Elasticity @ 73 F
psi
190000
Tensile Modulus of Elasticity @ 73 F
psi
220000
Flexural Strength @ 73 F
psi
8500
Density
g/cm

3


lb/in

3

2.13
0.077
Tensile Strength @73 F, (ult)/(yld)
psi
5700/(ult)
Notched Izod Impact @73 F
ft-lb/in of notch
1.5
Heat Deflection Temperature @ 264 psi
F
167
Flammability Rating
UL94
V-0
Coefficient of Linear Thermal Expansion @73 F
in/in/F
3.5E-05
Dielectric Strength, Short Term
Volts/mil
500
Water Absorption 24 hours
% by weight
0.00
Applications of PCTFE
There are two main qualities that direct PCTFE's application usage: water resistance and chemical stability. PCTFE films are used as a protective layer against moisture. Some applications include: moisture barriers in pharmaceutical blister packaging, protection of LCD panels, cryogenic seals and components.
When it comes to chemical resistance, PCTFE acts as a protective barrier for coatings and prefabricated liners. It is used for laminating other polymers like PVC, Polypropylene, PETG, APET and more. It can be found in transparent eyeglasses, tubes, valves, chemical tank liners, O-rings, seals and gaskets.
Common Applications
Aerospace Applications
Food Coating Films
Instrumentation
Seats
Valves
Films
Fluid Handling Systems
AIP Machining Capabilities: Unrivaled Expertise
We machine various grades and brand name PCTFE, including the following:
Our close ties with the industry's leading plastics manufacturers give us even further insight and access to technical help in material selection, sizing and manufacturing procedures. Whatever your application, our machinists can help you in material selection, sizing and manufacturing techniques from concept to completion.
Machining PCTFE
Annealing PCTFE
As with any CNC machined part, annealing and stress-relieving is crucial to the machining process. Coolants, lubricants and trained procedures prevent cracking and crazing in a precision machined component. We recommend slow heating and cooling during the annealing process of thermoplastics. This reduces the chances of these stresses occurring from the heat generating during machining polymers like PCTFE. Our AIP machinists use computer controlled annealing ovens for the highest quality precision temperatures and time control.
Machining PCTFE
PCTFE and other fluoropolymers are known for their dimensional stability – PCTFE has a melting point temperature of 419oF and a continuous use temperature of 250oF. However, once it reaches elevated temperatures, it will start to decompose. For the best results, use sharp tools, avoid excessive clamping and cutting forces and use coolants to prevent overheating. We recommend non-aromatic, water-soluble coolants because they are most suitable for ideal surface finishes and close tolerances. These include pressurized air and spray mists. Coolants have the additional benefit of extending tool life as well.
Some companies machine both metals and plastics, which has detrimental outcomes for machined polymer products. Many past experiences have shown parts going to customer without cracks, only to develop surface cracks and warping over time due to exposure to metal machine shop fluids. Be sure to use a facility like AIP that only machines polymers.
Preventing Contamination
Contamination is a serious concern when machining polymer components for technically demanding industries such as aerospace and medical sciences. To ensure the highest level of sanitation down to the sub-molecular level, AIP Precision Machining designs, heat-treats, and machines only plastics with any sub-manufactured metalwork processed outside our facility. This allows us to de-risk the process from metallic cross contamination.
PCTFE Machining Guide: Supportive Information
Quality Assurance Certifications
Chemical Resistant Materials
Looking for innovative, high-performance thermoplastics designed to perform in hostile, critical environments? Here's 7 Thermoplastics We Recommend.
Read Our Blog