3 Tips from the Plastics Machining Pros on choosing the most suitable material for your machined polymer components
CNC machining produces high-end, mission critical products for many markets and industries. It allows for tight tolerances on part dimensions and complex designs. However, before the machining can happen, the design must be completely planned out with your manufacturer. In order to get the best outcome for the design, you must choose the right polymer for your precision machined project.
As a precision plastics machining company, we work closely with our clients on the initial design conception for their project. Specialized in understanding and envisioning how to manufacture extremely complex designs, our team can see beyond the concept through to the exact specifications and output of the finished product. We prioritize all aspects of the material selection in order to deliver the optimal machined product to fulfill your design.
In our latest blog series on Design for Manufacture (DFM), we discuss 3 tips for material selection to discuss with your machinist and precision polymer manufacturer.
Finding the Right Material
Material selection for your design is a critical step in the design process. Not only do you need to select a material that is suitable for your product, but also discuss with your manufacturer cost effective options. Here are some basic details to cover with your manufacturer to get the optimal material for your project:
#1 Define material requirements:
What is the purpose or end use of the component? This includes environment considerations – such as whether or not the material will undergo extreme temperature, pressure, chemicals or wear.
Some material properties to consider include the following:
Electrical properties – Does the material need to act as a dielectric (act as an insulator rather than a conductor)?
Mechanical properties – How strong does the material need to be?
Chemical Resistant – Will the material be exposed to chemicals often?
Wear / Friction – How durable should the material be?
Color – What color does the part need to be?
Optical properties – Does the material need to be reflective or transparent?
Thermal properties – How heat resistant does it need to be?
Flammability – How flame/burn resistant does the material need to be?
Standards – Does the part need to follow industry standards and regulations? Check that your machining facility has all of the proper registrations.
#2 Identify candidate materials:
Consider all of your options for machined polymers. Some are more suitable for the medical environment versus those that would be chosen for aviation and defense applications.
Speak to your machinist and manufacturer about the material options available for your project. They will have a portfolio of materials that they can assess to find the optimal and cost-effective solution for you. Additionally, be sure your manufacturer has vast experience machining the materials you are considering.
#3 Select the most suitable material:
You will most likely need to pinpoint the most important features of your design that you cannot compromise on (for example, mechanical performance and cost). The manufacturability and overall cost of your project will influence your material choice. For instance, the more material your part uses, the more expensive it will be. Also, specialty materials such as PEEK and VESPEL will cost more.
Case Study: Choosing a Life-Saving Material To Reduce Brain Surgeries
Choosing the right material is not only essential in the design phase, but it can be life-saving. In our experience working with the medical industry, we know our clients prioritize biocompatibility, durability and mechanical stability in machined parts for medical devices.
In our recent case study, we worked with Neurosurgeon Rohit Khanna to develop a device to help lower the need for additional surgeries in patients of traumatic brain injuries or strokes. The device, known as a dynamic telescopic craniotomy, holds a portion of the skull (or bone flap) and the rest of the skull together, while enabling the brain to swell and expand. The device would significantly lower the need for repeat surgeries in patients, thus lowering the chances of morbidity.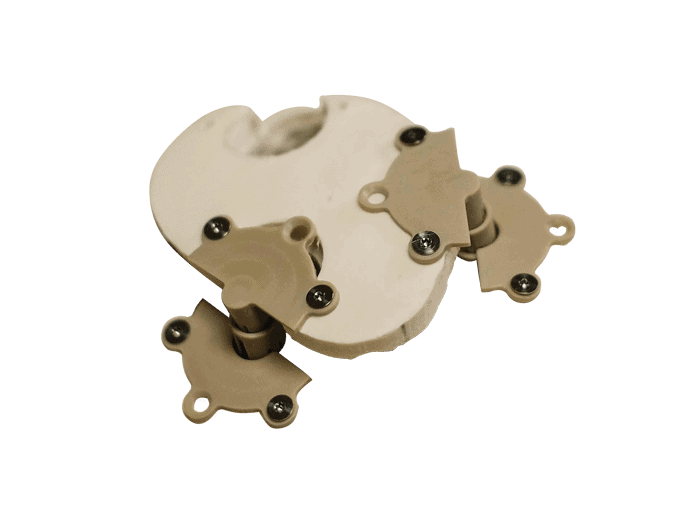 Our team of designers, engineers and machinists worked closely with Dr. Khanna to develop a prototype for the project. The parameters for the material were steep: implantable, moisture resistance, biocompatibility, sterilizable and mechanical stability under pressure. We determined that medical grade PEEK was the ideal candidate to build the prototype, since it was renowned for its ductility, long-term implantation and biocompatibility. In collaboration with Dr. Khanna, we designed a plate-like thermoplastic PEEK device that holds the bone flap together and flexes in different directions if and when the brain swells.
Learn more about our work with Dr. Khanna and medical grade PEEK here.
AIP Precision: Polymer and Composite Material Expertise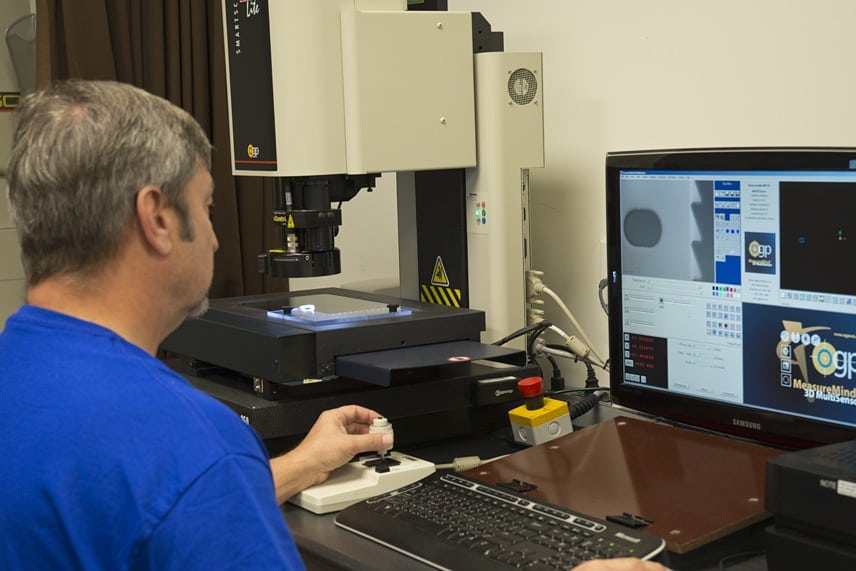 We are proud to offer a quality assurance process that focuses on actual product quality, fast delivery and cost-effective options. Our team of machinists provide the highest level of engineering expertise from initial design conception to a finished machined component. Our facility strictly machines polymers and composites, so you know that your product will be free of contamination and impurities. Additionally, we are not bound to any one source of raw materials which provides our customers an unbiased material selection process.
Our skilled team has over 37 years of working with professionals and OEMs in the following industries: medical sciences, aerospace and defense, energy and specialized industrial sector. From sensitive environments to complex shapes, we precision machine parts for a wide range of applications. We assess quality at every step of the machining process, and hold ourselves to high standards. Our facility is FDA Registered, ITAR Certified, ISO 13485:2016, ISO 9001:2015 and AS9100D Certified. For this reason, we have the capabilities to take on diverse and varied projects. If you have an initial design conception for a machined plastic part, contact our team and we will be happy to offer a consultation on material selection and machining services.
Supporting Materials
Certifications and Regulatory Resources
As a precision plastics machining company for medical devices, we are FDA registered to ensure the highest quality assurance for your medical machining project.
Learn more about what it means to be FDA registered.
Read Our Blog