PART SUMMARY:
PEEK (PolyEtherEtherKetone) is a lightweight highly chemical resistant thermoplastic popular in the Aerospace & Defense and Medical & Life Sciences Industries.  From implants to custom medical devices or machined lightweight aircraft components, PEEK is ideal for a variety of specialized applications.
MATERIAL PROPERTIES:
PEEK is considered a semi-crystalline, high-performance thermoplastic. This gives it enough elasticity to be precision machined to various custom designs, with strong mechanical properties that provide resistance to fatigue and stress-cracking, as well as a good structure for bearing, wear and structural applications.
Key properties of PEEK include:
Handling at temperatures up to 480°F (250°C)
Abrasion Resistance
Chemical Resistance
High Ductility
High Elongation
Hydrolysis Resistance
Low Outgassing
What can this polymer do?
Due to its elasticity and resistance to chemicals, abrasion and hydrolysis, PEEK is a highly sought-after thermoplastic for both industrial-grade and medical-grade applications.
Common uses include:
Aerospace Weight Reduction Components
Dental Implants
Food and Beverage Automated Manufacturing Equipment
Food and Beverage Filling
Medical Implants
Medical Instruments
Metal Replacement
Processing Equipment
Semiconductor Manufacturing Equipment
Vacuum Chamber Applications
So, what can this polymer do?  Let's take a closer look at how it is applied in the Aerospace & Defense and Medical & Life Sciences industries:
AEROSPACE & DEFENSE
In 1978, ICI invented PEEK, a member Of the PAEK (polyaryletherketone) family of thermoplastic polymers.  It quickly gained recognition in the aerospace and defense industry for its weight-saving capabilities over metal alloys.  For example, Airbus used PEEK for a primary structural component in the door of the A350 XWB to improve quality and reduce weight and costs by 40 percent.  Over the next 15 years, industry professionals forecast that 41,000 new and replacement planes will be required.  Officials and engineers in the aerospace industry are looking for alternative high-performance thermoplastics like PEEK to meet this material demand.
Read more on PEEK's impact in the aerospace and defense industry in our downloadable booklet below
As demand for stream-lined, innovative materials grows, we continue to serve and precision machine complex polymers for the aerospace and defense industries. For over three decades, we have provided flight control, fuel system, interior, engine and aerodynamic-related PEEK components for various aircraft OEM and MRO providers worldwide.
MEDICAL & LIFE SCIENCES
PEEK gained traction in the medical industry 20 years after the aerospace industry adopted it. In the late 1990s, Invibio Biomaterial Solutions commercialized a bio-compatible grade of PEEK (PEEK-OPTIMA). Ever since then, demand for medical grade PEEK devices has skyrocketed. From surgical instruments to spinal fusion implants, PEEK has a wide range of applications that only continues to expand in the medical industry.
Peek Neurosurgical Case Study
One such example of PEEK's versatility is in neurosurgery for stroke and traumatic brain injuries.  Dr. Rohit Khanna partnered with AIP Precision Machining engineers to create a device that would expand without another operation, yet hold the "bone flap" and the rest of the skull together.
Problem
Dr. Rohit Khanna wanted to develop a device that would relieve swelling in the skull for patients undergoing brain surgery, which can lead to complications or even death.
Solution
The polymer of choice?  PEEK.  AIP's engineers machined a medical component that was flexible, strong and sensitive enough to fulfill the necessary requirements for this critical medical part.  PEEK was also the best choice for this medical application because it was the most ductile and biocompatible.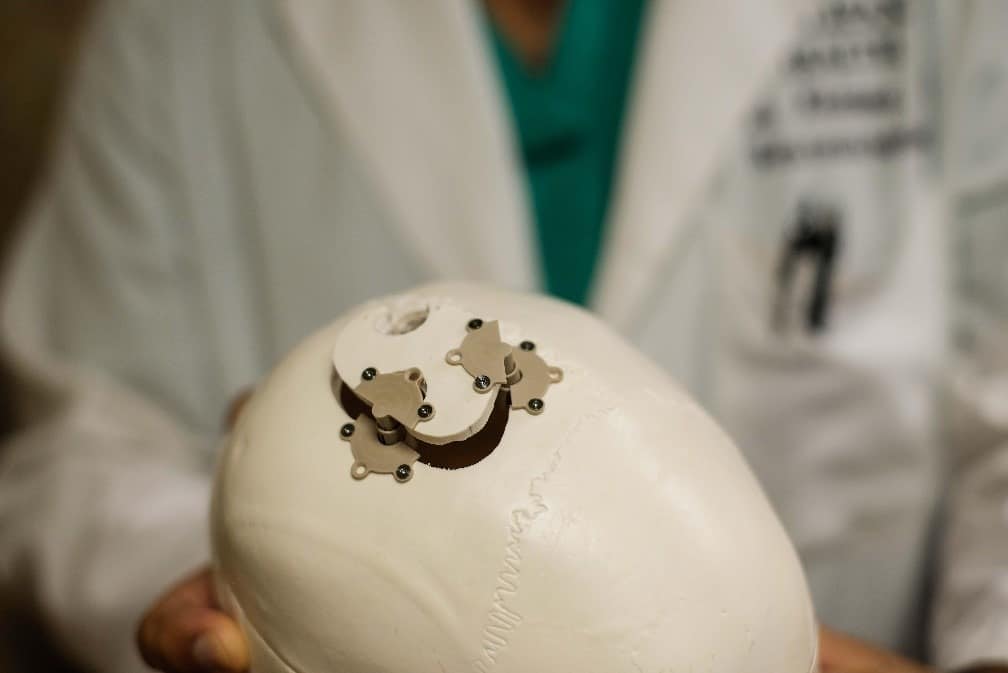 Resolution
Currently, the FDA is processing the PEEK surgical piece for clearance to conduct clinical trials.  If it is approved to move forward, it can make leaps and bounds in reducing the need for multiple brain surgeries, saving more lives.
What can this polymer do?
From concept to completion, our team of engineers will work with you to realize the final product.  With some of the fastest lead times in the industry, our unrivaled technical experts we can tackle your polymer challenges.
What Can This Polymer Do? Supportive Information
Download our "What Can This Polymer Do?" booklet.
We've put together our premier PEEK applications in a condensed booklet you can take with you.