An Informational Brief on Polymer Machining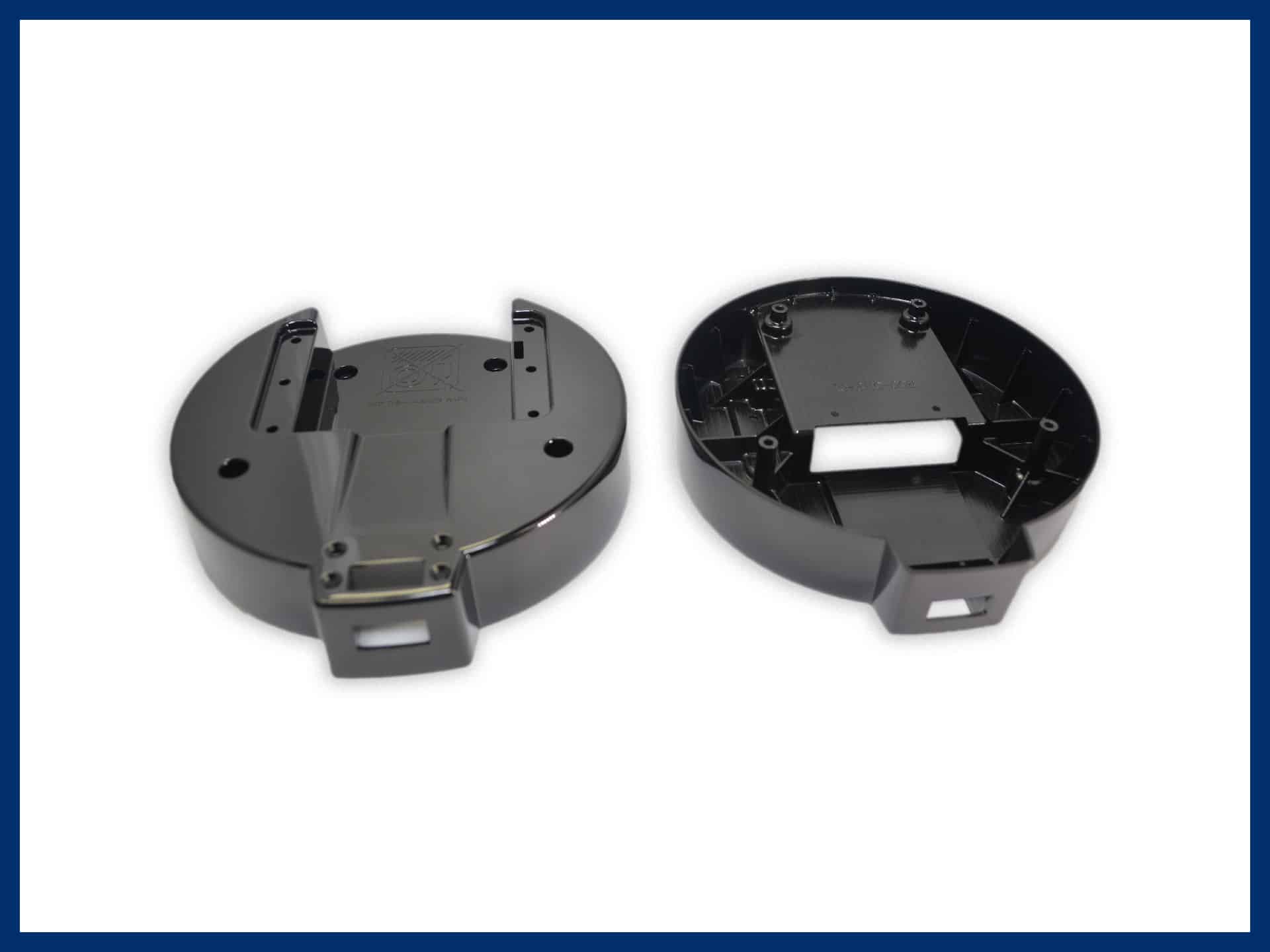 RADEL is a PPSU (or Polyphenylsulfone) widely considered to be the highest-performing of Solvay's sulfone polymers. It's no surprise then that we've regularly machined RADEL at AIP Precision Machining over the past three decades.
With superior impact strength and outstanding resistance to stress cracking, RADEL offers exceptional hydrolytic stability and toughness across a wide temperature range, making it a favorite of the medical, electronics manufacturing, and aerospace industries.
AIP has over 35 years of experience machining complex components from RADEL and various other thermoplastic materials. We are providing this Machining RADEL as yet another insightful technical brief about our polymer component manufacturing process, and how it differs from that of metal machining, injection molding, or 3D printing.
Machining Thermoplastics vs Thermosets
Plastic CNC machining is affected by what type of material you're machining. Technical expertise is key to polymer machining, which is why you have to know the polymer structure and properties of RADEL before machining it.
There are two basic types of polymers: thermoplastics and thermosets. Thermoplastics soften in heat and become more fluid, while thermosets cross-link during curing, which eliminates the risk of a product re-melting in heat. Since these categories react differently to chemicals and temperature, it's important to know that RADEL is a thermoplastic.
To be specific, RADEL PPSU is an amorphous, high-performance thermoplastic that is lightweight, available in bone-white or black colors, and can be either transparent or opaque. Like other amorphous thermoplastics, such as ULTEM, RADEL is thermoform capable, translucent and easily bonded with adhesives or solvents.
Properties & Grades of Machined RADEL
RADEL's reputation as a high-performance thermoplastic is well deserved. RADEL PPSU has an impressive heat deflection temperature of 405°F (207°C) and is inherently flame retardant with low NBS smoke evolution, making it an ideal material choice for aircraft interiors. In addition, its retention of mechanical properties is superior to all other amorphous transparent polymers.
With improved impact and chemical resistance over PSU and PEI, RADEL PPSU has been tested for notched izod impact resistance as high as 13 ft.-lbs/in. It can endure over 100 joules of force without shattering, even with repeated exposure to moisture and extreme temperatures.
These inherent qualities allow RADEL PPSU to withstand unlimited steam autoclaving and provide RADEL with excellent resistance to EtO, gamma, plasma and chemical sterilizations as well. Unsurprisingly, its extreme thermal properties make RADEL ideal for reusable medical instruments and other applications where sterilization is key.
Not all grades of RADEL PPSU share the same exact properties, of course. Choosing the grade of your material that best meets your needs is an important part of AIP Precision Machining's expert material knowledge.
One grade of RADEL PPSU we machine regularly at AIP Precision Machining is RADEL R5500.
RADEL R5500
RADEL R5500 is a unique polymer grade that meets the stringent aircraft flammability requirements of 14CFR Part 25, while also being a biocompatible, medical-grade resin that is FDA and NSF approved for food and beverage contact. From that, it's clear that RADEL R5500 can be used for a wide range of applications, whether it's for aircraft interiors, electronic burn-in sockets or surgical instruments. RADEL R5500 can be polished to a mirror finish and is available in both opaque and transparent colors.
Machining RADEL PPSU
Annealing RADEL PPSU
RADEL PPSU, like many polymers, can be received in the form of rods, sheets, tube or film. As we mentioned before, amorphous thermoplastics like RADEL are especially sensitive to stress-cracking, so stress-relieving through an annealing process is highly recommended before machining.
Annealing RADEL greatly reduces the likelihood that surface cracks and internal stresses will occur from the heat generated. Post-machining annealing also helps to reduce stresses that could potentially contribute to premature failure.
If the machine shop you are working with does not have a computer controlled annealing oven for plastics, then "head for dee hills" as they are obviously not RADEL machining experts.
Machining RADEL PPSU
Non-aromatic, water-soluble coolants are most suitable for ideal surface finishes and close tolerances. These include pressurized air and spray mists. Coolants have the additional benefit of extending tool life as well.
Many metal shops use petroleum-based coolants, but these types of fluids attack amorphous thermoplastics like RADEL PPSU. Many past experiences have shown parts going to customer without cracks, only to develop cracks over time due to exposure to metal machine shop fluids. Be sure to use a facility like AIP who machines polymers and only polymers.
Preventing Contamination
Contamination is a serious concern when machining polymer components for technically demanding industries such as aerospace and medical. To ensure the highest level of sanitation down to the sub-molecular level, AIP Precision Machining designs, heat-treats, and machines only plastics, with any sub-manufactured metalwork processed outside our facility. This minimizes the potential for metallic cross-contamination.
RADEL Machining Guide: Supportive Information
Medical Sector Biomaterials Guide
Aerospace Sector Materials Guide
or request a quote here.