PEEK Polymer Biocompatibility in the Operating Room or Inside the Body
Biocompatible precision polymers, such as Polyetheretherketone (PEEK) have revolutionized medical technology practices for over a decade. Medical devices and implants that come direct or indirect contact with human tissue and blood must meet strict guidelines for short and long-term use.
Biocompatibility in spinal and other dental implants, for example, is critical to patient health and bone fusion for long-term functionality. Medical-grade PEEK has the advantage of excellent chemical resistance and stability at high temperatures. This makes it a material choice for medical procedures inside the body or in the operating room.
In our latest PEEK brief, we delve into the advantage of PEEK polymer material biocompatibility.
The Superior Biocompatibility of PEEK for Surgical Instruments & Orthopedic Implants
Medical grade PEEK has gained traction as a leading medical technology for its advanced properties and unique compatibility with human tissue and fluids. It has also become a material choice for implants and instruments over other medical-grade plastics and metals. Additionally, medical OEMs will use PEEK in precision medical devices that require stability in high heat and chemical environments.
Characteristics of Medical-grade PEEK
PEEK fulfills the requirements for biocompatibility under FDA and ISO 10993 guidelines. Not only does it maintain continuous use up to 480°F (250°C), it's also an attractive precision plastic for components used in the medical field for the following reasons:
• Autoclave Sterilization Stability
• Abrasion Resistance
• Chemical Resistance
• High Ductility
• High Elongation
• Hydrolysis Resistance
• Low Outgassing
Grades of Medical PEEK
There are several medical-grades of PEEK, but here are some common brand names sourced from AIP's industry partners.
TECATEC® CW50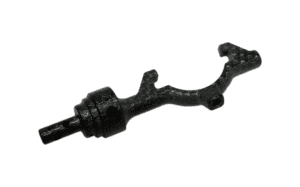 TECATEC PEEK MT CW50® black plates are based on Victrex® PEEK that is reinforced with 50% vol. carbon fibers. This carbon fiber reinforcement elevates the stiffness and strength to be many times those of plates made from unreinforced PEEK or plates with short fiber reinforcement.
This grade of PEEK has been tested and approved for biocompatibility as per ISO 10993 for blood and tissue contact. It is autoclavable as it shows no significant loss of mechanical properties or degradation, even after many sterilization cycles. TECATEC® PEEK MT CW50 black is also suitable for gamma sterilization and is X-ray transparent. This makes it an ideal material for medical applications in multi-use conditions.
TECAPEEK® MT
Ensinger 's TECAPEEK® MT was specially developed to meet the requirements for materials used in medical technology. Applications range from the orthopedic market, with the joint reconstruction and traumatology segments, to surgical instruments, the dental market, and many more.
SustaPEEK MG
Röchling's SustaPEEK MG (Medical-grade) has excellent chemical resistance, high temperature stability, and excellent resistance to steam sterilization. It is commonly used for metal replacement in surgical implant applications. It is FDA, USP Class VI compliant, & ISO 10993-5 certified.
Ketron PEEK
MCAM's Ketron® PEEK is a biocompatible polymer that boasts high mechanical properties with a continuous heat resistance of up to 482°F (250°C). Its great dimensional stability, excellent chemical & hydrolysis resistance, as well as its ability to sustain steam cleaning makes it a perfect polymer choice for medical implants, and other medical tool implementations.
Additionally, materials undergo numerous quality tests throughout phases of production, including 100% ultrasonic testing. Lot and batch traceability is available upon request with in-depth certification documents and raw material certificates of analysis.

Your Partner in Advancing Medical Technology
As a premier partner in precision plastic component manufacturing, we understand the demands of the medical industry. Cutting corners is out of the question for AIP's expertise and craftsmanship. That's why we are here to provide engineering guidance and finesse throughout the process. From initial design consultation to material selection and prototyping, we make it our priority to machine close tolerances, produce precise geometries, and meet the highest levels of sanitation.
Quality, accuracy, and durability are the norm at AIP. Not only do our customers demand it, we demand it of ourselves. We include quality assurance as an integral part of our process and is addressed at every step of your project, from concept to completion.
Contact an AIP team member for a quote for medical grade PEEK.