Push the Boundaries of High Performance and Sustainability With Precision Polyimides
When it comes to choosing a polymer for critical applications, there is no room for compromise. You need a material that can withstand the most challenging conditions while still providing the performance you need. For extreme environments, there is no better choice than DuPont's Vespel® polyimide.
This unique polymer has been proven to exceed the performance of other materials in demanding applications, making it an essential component for mission-critical systems. With its exceptional strength and thermal stability, polyimide is ideal for use in aerospace and automotive engineering. So if you're looking for a polymer that can handle anything, look no further than Vespel® polyimide.
Vespel® Works Overtime in Harsh, Demanding Environments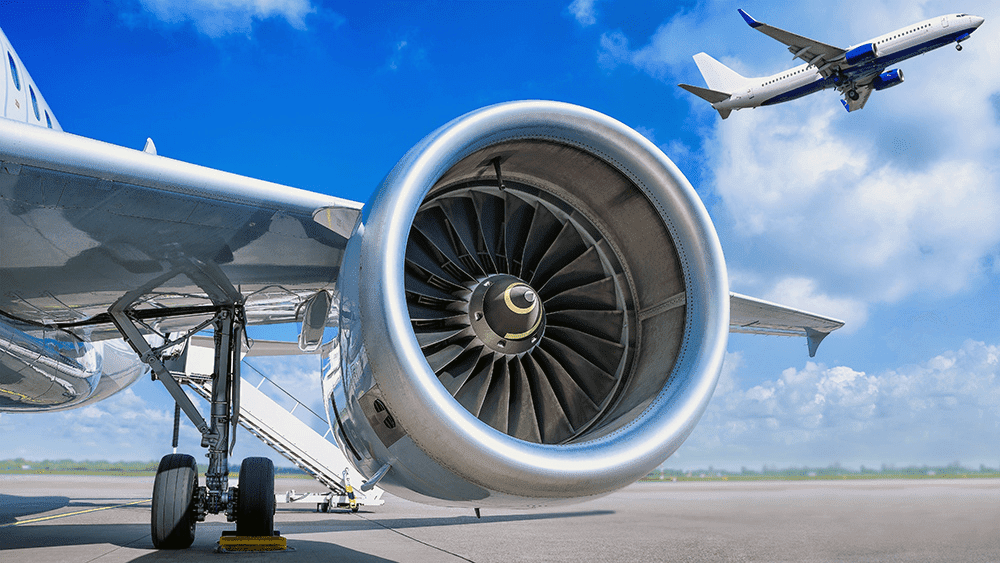 Image Source: Alan Turing Institute
Polyimide or Vespel® is a high-performance polymer made to withstand extreme environments where continuous friction and vast temperature variations are the norms. It's most commonly found in engine components for the automotive and aerospace industries, as well as bushings and seals in industrial and energy applications. These mission-critical parts might come as small pieces, but they make a significant difference in weight, stability, and material longevity. Let's take a closer look at how Vespel® benefits the Aerospace and Defense industry.
Aerospace applications of PI include:
compressors
fans
externals
nacelles
and engine oil system seals
The engine of an aircraft, whether for military or commercial use, is the most essential part of the plane. Keeping an aircraft in the sky and ensuring it reaches its destination is more than mission-critical; it's non-negotiable. Vespel® meets the challenges of these environments, providing engineers with an innovative material advantage.
Vespel® Features and Benefits
Vespel® thrives in some of the most punishing environments like aircraft engines or gas-fired turbines. Here, we explore the top three features and benefits of Vespel®:
| | |
| --- | --- |
| Feature | Benefit |
| Vespel® is a lightweight alternative to metal. It offers a high tensile (8,750 psi) and flexural (16,000 psi) strength at one-half the weight of metal. | Save weight – Vespel® offers astounding weight-saving benefits for aircraft by replacing metal or aluminum parts that add unnecessary weight. |
| Continuous service temperature – cryogenic temperatures to 260°C (500°F). | Resist wear – With high temperatures, high speeds, and constant environmental fluctuations, Vespel® is a top choice for impact resistance and material preservation. It's often found on bushings, fan blade root wear strips, as well as custom bumpers and pads. |
| Lower friction versus metal with a dynamic coefficient of 0.2 or less. | Minimize friction losses – Components such as bushings need to withstand impact, cantilever loading, and accommodate designs with tight fits. Vespel slows part degradation and improves overall aircraft operability. |
How Vespel® Compares to Other High-Performance Plastics
Vespel® is a high-performance plastic that is used in a variety of applications where strength, stability, and resistance to extreme temperatures are required. How does it stack up to other performance plastics like PEEK (Polyetheretherketone) and PEI (Polyethylenimine)?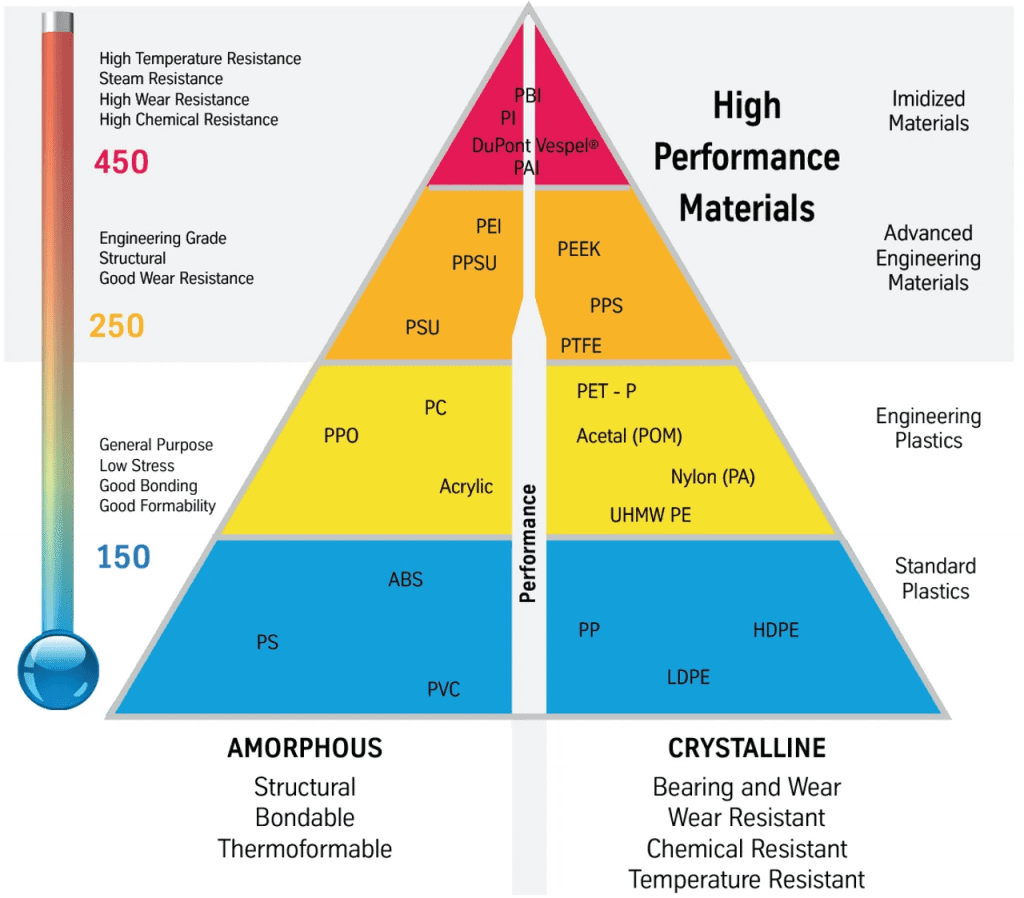 Image Source: Performance Plastics Chart
When it comes to precision plastics, PEEK and PEI hold their own as exceptional engineering plastics. PEEK is often used in the medical field as a material for bone implants. PEI is most commonly used in high voltage electrical insulation applications due to its high dielectric strength. In comparison to PEEK and PEI, Vespel® has superior mechanical strength and flexibility.
Additionally, Vespel® is resistant to a wide range of chemicals, making it an ideal material for use in harsh environments. While Vespel® has many advantages over other high-performance plastics, it remains more expensive than these materials due to its complex manufacturing process.
Why Choose AIP for Your Vespel® Project?
When you're working with a material like Vespel®, there is no margin for error. That's why choosing a machining shop includes how they handle the material and how they handle your project from concept to completion.
38 Years of Precision Plastics Expertise
At AIP Precision Machining, we have over 38 years of experience in precision thermoplastics. Unlike other shops that may machine metals or other materials alongside plastics, our shop is 100% dedicated to plastics machining. It makes a difference in quality at the end of the day, as you can be assured that your machined parts will not deteriorate or crack from exposure to metal machining fluids.
Quality Assurance From Beginning to End
From start to finish, we take quality and compliance seriously. AIP is certified and adheres to the following regulations and standards:
ITAR
AS9100:2016
FDA Registered
ISO 13485.
Partnering With Leading Industry Suppliers
We have close ties with leading plastics manufacturers to give us even further insight and access to technical help in material selection, sizing, and machining protocols.
Through these partnerships, we offer a variety of materials available for expert machining services, including:
Vespel® SP and Vespel® SCP products
Ultem®
Ertalyte®
Radel®
Torlon®
Delrin®
and more
Unrivaled Expertise. Unparalleled Results
If you are interested in a quote for machined Vespel® or want a consultation for your precision project, give our team a call at (386) 274-5335 or click here. No matter how unique or complex your project may be, we are here to provide unrivaled expertise and guidance.
Find your next aerospace material for your mission-critical application.