An Informational Brief on Polymer Machining
Polyphenylene Oxide (PPO), also known by its trade name NORYL™, is an amorphous engineering thermoplastic.  It is generally used commercially for electrical components, automotive parts and in medical grade sterilizable medical instruments that require high heat resistance, dimensional stability and accuracy.  Some of its benefits include being low cost, light-weight with very low moisture absorption.
AIP has over 37 years of experience machining complex components from thermoplastics like polyphenylene oxide.  In this insightful technical brief, we will discuss what goes into machining PPO and how it differs from other manufacturing options such as metal machining, injection molding, and 3D printing.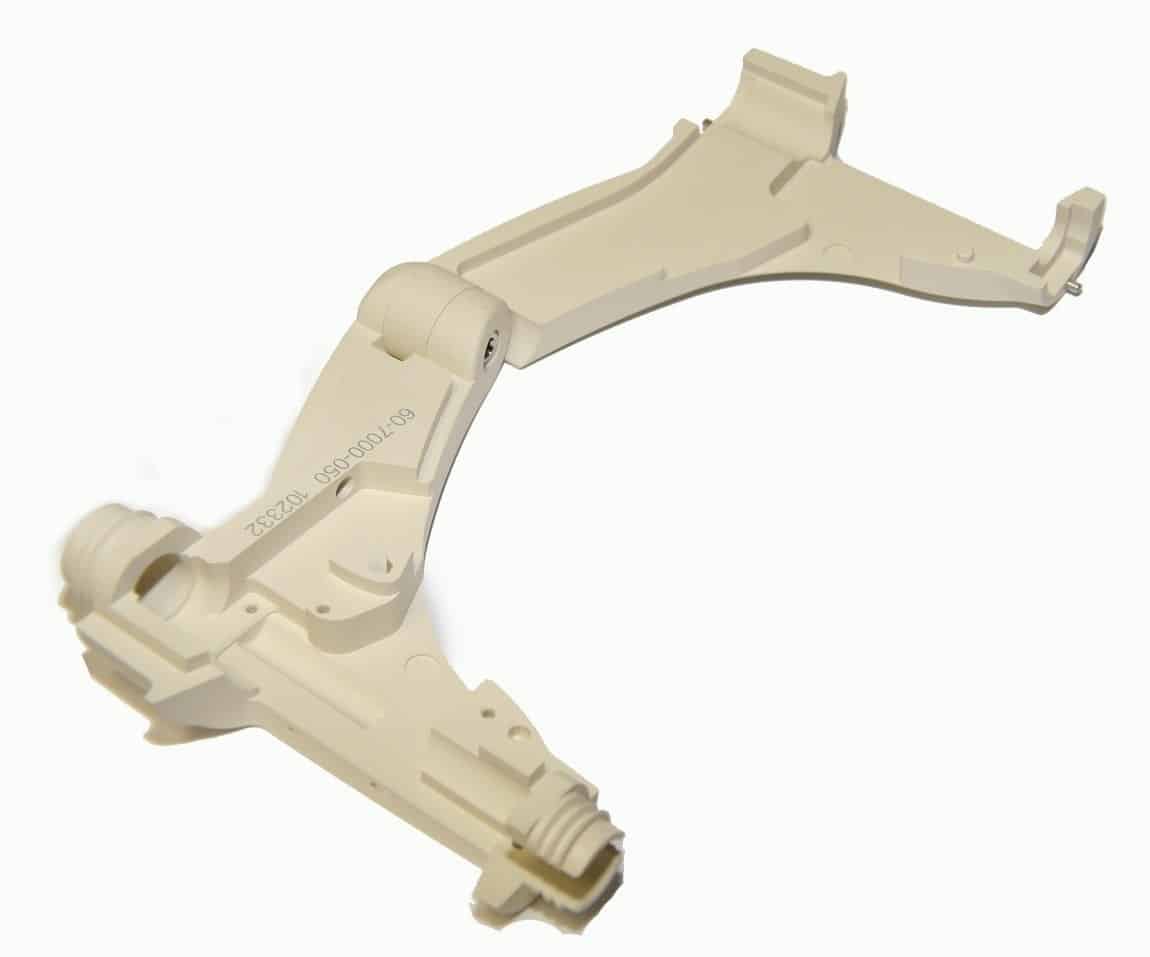 Properties of PPO
Keeping information about the properties of a thermoplastic beforehand is always beneficial. This helps in selecting the right thermoplastic for a project.  Furthermore, it assists in evaluating if the end use requirement would be fulfilled or not.  Here are some of the key properties of polyphenylene oxide:  
PPO (Polyphenylene Oxide) is characterized by an extremely low moisture absorption rate and low thermal expansion.  As a dimensionally stable thermoplastic, PPO also has high dielectric strength and a flammability rating of UL94 V-1 at .058" thickness.  For machined parts, it is available in black, natural or a 30% glass filled gray version.  
Although it has many attractive properties, PPO is susceptible to thermal oxidation in relation to its high glass transition temperature, which poses a problem for melt processing.  To offset this, commercial resins are often blended with high-impact polystyrene (HIPS) or polyamide (PA).
| | | | |
| --- | --- | --- | --- |
| Properties | Value | Units | Method |
| Resistance to Weathering | Good | – | – |
| Tensile Strength at Break | 9200 | psi | ASTM D638 |
| Elongation at Break | 25.0 | % | ASTM D638 |
| Thermal Expansion | 3.3 x 10-5 | in/in/oF | ASTM D696 |
| Impact Strength, Notched @ -40 oF | 2.5 | ft-lb/in | ASTM D256 |
| Impact Strength, Notched @ 73 oF | 3.5 | ft-lb/in | ASTM D256 |
| Dielectric Strength | 500 | V/mil | D149 |
| Heat Deflection Temperature, @264psi | 254 | F | D648 |
| Flammability, @ .058" | V-1 | – | UL94 |
| Flammability, @ .236" | V-0 | – | UL94 |
Key features of polyphenylene oxide:
Flame Resistance

Flexural Strength

High Dielectric Strength

Insulated

Low Moisture Absorption Rate

Low Thermal Expansion
Applications of PPO
Polyphenylene Oxide blends are used for structural parts, electronics, household and automotive items that depend on high heat resistance, dimensional stability and accuracy. They are also used in medicine for sterilizable instruments made of plastic.  Common applications include the following:
Manifolds

Pump, valve and fitting applications

Scientific and analytical instrument components

Housings

Covers

Electrical components
Grades of PPO
At AIP, we machine various grades and brand name polyphenylene oxide.  Branded names include the following:  NORYL™, NORYL™ EN 265, NORYL™ PPO, NORYL™ RESIN, NORYL™ SE-1 GFN3, NORYLUX™, SUSTAPPO™, TECANYL™.
Our close ties with the industry's leading plastics manufacturers give us even further insight and access to technical help in material selection, sizing and manufacturing procedures.  Whatever your application, our machinists can help you in material selection, sizing and manufacturing techniques from concept to completion. 
Machining PPO
Annealing PPO
If machined with coolants, lubricants and untrained procedures, this material is subject to cracking and crazing.  Therefore, annealing is necessary for a quality, precision machined part out of the stock shape.  The annealing process at AIP greatly reduces the chances of these stresses occurring from the heat generated during machining PPO and other polymers.  Our machinists use computer controlled annealing ovens for the highest quality precision machining.  
Machining PPO
We recommend non-aromatic, water-soluble coolants because they are most suitable for ideal surface finishes and close tolerances. These include pressurized air and spray mists. Coolants have the additional benefit of extending tool life as well.
This plastic is processed by injection molding or extrusion; depending on the material, the processing temperature is 260-300 °C. The surface can be printed, hot-stamped, painted or metallized.
Some companies machine both metals and plastics, which has detrimental outcomes for machined polymer products. Many past experiences have shown parts going to customer without cracks, only to develop surface cracks and warping over time due to exposure to metal machine shop fluids. Be sure to use a facility like AIP that only machines polymers.
Preventing Contamination
Contamination is a serious concern when machining polymer components for technically demanding industries such as aerospace and medical sciences. To ensure the highest level of sanitation down to the sub-molecular level, AIP Precision Machining designs, heat-treats, and machines only plastics with any sub-manufactured metalwork processed outside our facility.  This allows us to de-risk the process from metallic cross contamination
Polyphenylene Oxide Machining Guide: Supportive Information
Quality Assurance Certifications
We machine critical components from PPO, ULTEM, PEEK and more to endure harsh environments in power and energy applications.
Learn More