Keeping it clean with precision polypropylene medical devices
Polypropylene (PP) is a versatile, low-cost thermoplastic often used for medical devices where sustainability and multiple steam-sterilizations are necessary. Along with its resistance to moisture and steam, polypropylene offers durability and strength, even after several uses. These qualities are what make it an excellent lifesaving material in medical settings.
For the last 38 years, AIP has been machining precision plastics for the medical and life sciences. From thermoplastics reducing the need for brain surgeries to working closely with OEMs producing today's leading medical devices and prosthetics, we have seen firsthand the scientific leaps taken with precision plastics. In this technical brief, we discuss the advantages of medical grade polypropylene.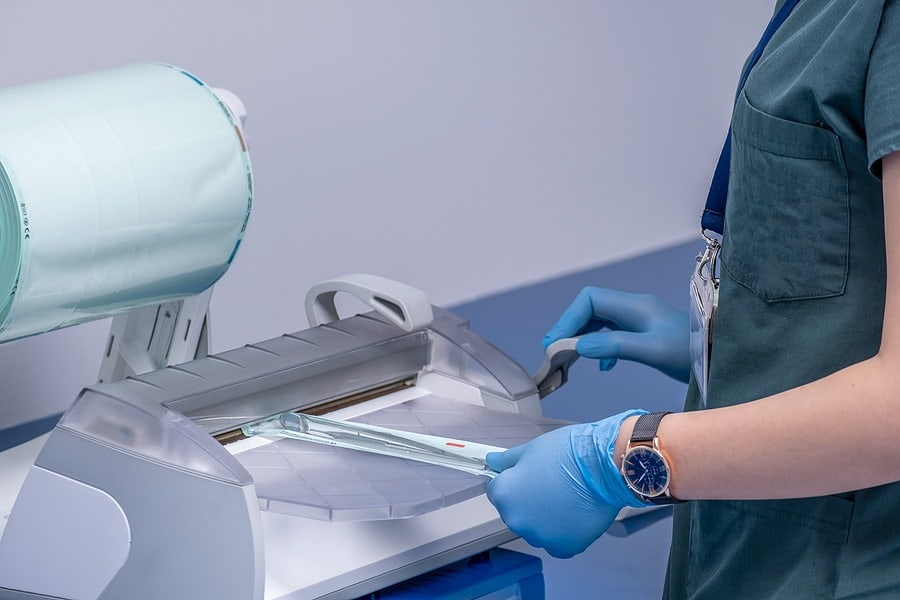 The Advantages of Medical Grade Polypropylene
In the last decade, thermoplastics like polypropylene have gained traction in medical device development. Not only are they more sanitary than reusable metal devices, which can rust or retain bacteria, plastics provide a durable, lightweight solution in an industry where material selection is critical to lifesaving procedures.
Features
Polypropylene is a cost-effective medical-grade plastic material and is used where steam-sterilized medical devices are necessary. In addition to resistance to steam sterilization, mechanical performance properties of polypropylene include durability for the number of cycles it can be reused. Its recyclability also makes it an attractive medical-grade plastic.
Good resistance to cleaning and disinfectants
Suitable for repeated sterilization with hot steam
High dimensional stability
Good machinability
Laser marking possible
Applications
Polypropylene's greatest strength is its versatility. Depending on the medical grade, it can be used for disposable syringes or finger-joint prostheses. Additionally, with a lower density than other products, polypropylene can help manufacturers save money by producing lighter weight products. Other applications include the following:
Pipettes
Syringes
Cuvette
Luers
Diagnostic devices
Medical device components
Labware
Meeting market demands
As the medical market continues to evolve, precision plastics, such as polypropylene and PEEK are revolutionizing the medical and life sciences industry. Precision plastics continue to show superior qualities and functionality over traditional materials, including metal, ceramic, and glass. These medical grade polymers can vary, but many share characteristics and properties, as well as meet industry regulatory standards.
What to look for in a machine shop for your precision plastic medical device
What do you look for in a precision plastics machining shop? The medical device industry has strict standards of material manufacturing as well as the regulatory bodies that enforce them, such as the FDA. As you seek out a machining shop, make sure to ask your machinist questions about the types of materials they machine, what regulatory standards they follow and meet, and take a look at their track record working with healthcare OEMs.
Plastics Only
It's a good idea to pick a shop that machines only plastics. Some shops machine metal and plastic or other materials, and the consequences of mixing materials or machining fluids can damage your end product. Plastics only machine shops have the right equipment, an array of thermoplastics and composites, and use the appropriate techniques to ensure the quality of a performance medical product.
Regulatory standards
Medical device manufacturing follows strict ISO and FDA standards of cleanliness and environmental conditions. Seek a machine shop that not only meets these standards, but also has the right people, processes, and equipment approved by regulations. Medical devices leave no space for a margin of error—"measure twice, cut once" is a rule of thumb to live by when choosing a precision plastics manufacturer.
Industry experience
The most important factor to take into account overall is experience. Your supplier should be familiar with the types of polymers and composites you need machined, and should additionally know the best machining process for your application.
You want to find a manufacturer that can display a portfolio of projects that meet the complex needs of the medical industry. As an example, if your precision device is coming into contact with bodily fluids and tissue, then they must be biocompatible per ISO 10993.
A manufacturer must be familiar with the processes and regulations that accompany machining precision medical components. With 38+ years of experience, AIP is well acquainted with precision machining for the medical industry and guarantees careful material selection and processing for your medical applications.
Contact our team for a consultation on your precision medical grade polypropylene device or ask about our other medical grade thermoplastics. Let our team go to work for you!
Supportive Information
Looking for more medical grade thermoplastics?
Here's 8 to consider for your next precision machined medical device.
Learn More